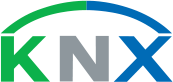 The accredited SATEL KNX Test Laboratory is authorized to perform full KNX interoperability and functionality tests of building automation devices.
This allows SATEL to test different building automation devices, commissioned by their manufacturers. Acquiring a positive device test result allows producers to apply for a KNX Association certificate. After receiving the certificate, manufacturers may display the KNX logo on their products, configure them in the ETS environment, as well as integrate with other various KNX modules.
A complete testing procedure in a KNX accredited laboratory is the final step of the certification process and the subsequent launch of the product on the market.
Our specialists are more than glad to assist you.
For more information, please contact us.