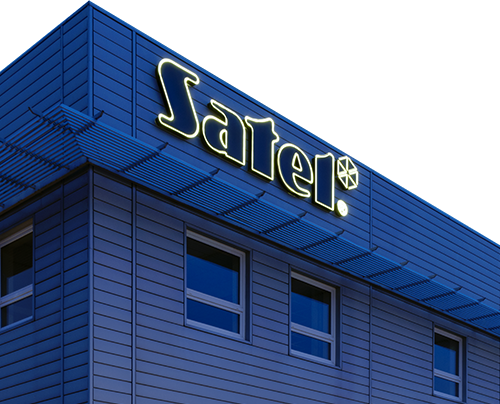 Caring for the safety and comfort of millions of people around the world
With over 30 years of experience, a team of experts, advanced machinery, and our own testing laboratory, we create some of the most popular electronic security devices among professional installers.
They are all made in-house, at SATEL'S headquarters in Poland, where we can ensure the delivery of the best possible solutions at every stage. That is why our products are now synonymous with the highest quality.

Learn how our devices are made - from the very first design outline to the final product.
See how SATEL systems can give you a sense of security and comfort every day, wherever you are.
Our proven formula for success is a combination of four elements in perfect proportions:

High production standards
Our machine parks are regularly modernized, and their level of automation increased to maximise their efficiency and production precision. By monitoring the conditions (air cleanliness, humidity, temperature) within the production area, and in the components warehouse, we ensure the stability of parameters of machines and equipment manufactured by SATEL. We use professional testing equipment of our own design to verify the efficiency of products before they are delivered to our customers.

Qualified specialists​
The people working for SATEL are experts well-versed in both design and production of alarm system equipment for many years. Our employees and the values they bring to SATEL are its greatest asset.

Technology in the product
At SATEL we believe it's crucial to move with the times. Therefore, we constantly monitor and implement new technological solutions in our devices, as well as care for their universal design. All this is to ensure that our products are versatile, easy to install, configure, and operate every day.

Close cooperation with our customers
We proudly state SATEL is the leader of the security industry, thanks to listening to user feedback and responding to customer needs. We develop products for individual markets and their requirements in mind - which is why we are valued by customers and business partners alike around the world. The wide range of available devices, which provide comprehensive security and comfort, is the result of the accumulated knowledge of hundreds of people over the years.
At SATEL, we believe that the best product is the effect of teamwork
The product development process is divided into several stages, involving over 350 specialists from various fields.
1. Idea
This is where it all begins. We hear what the market needs, we listen to the opinions of our customers, and we tap onto the experience of our specialists. Following current trends and analysing available technologies allows us to constantly and frequently expand our offer with completely new devices.
2. Design
Each new product must be designed to meet not only the requirements of industry standards, but also the expectations of users and installers. In the preliminary process, specialists from various areas, including electronics, software, testing or marketing, are involved in product development. Together we try to combine two issues: functionality and aesthetics.
3. Prototype
A new product must undergo multiple diverse tests, different examinations, consultations, and eventually design changes in order to achieve the best possible product. Only designs that have successfully passed through the testing phase are to be manufactured.
4. Production
At SATEL we use technologically advanced machinery, which harmonizes with the work of our highly qualified employees. Every new product is made with passion and commitment. This is how SATEL electronics, enclosures and software are developed.
5. Quality control
Before our products hit the markets, we must ensure they meet the high quality standards - something SATEL is known for. Quality control is carried out at every stage of production. All devices undergo a full functional test after leaving the production line before they are deemed as ready-for-sale goods.
6. Sales
Our offer includes 500 products, which are sold on over 70 markets worldwide. In Poland alone we support 112 different sales partners, providing full technical support. This includes technical documentation, informational materials, and organisation of training courses - all this to make everyday work with our devices easy and satisfying.
7. Feedback
Feedback from users is important to us. That is why we listen, and improve our designs with one goal in mind - giving millions of customers around the world everyday satisfaction and increased sense of security and comfort.
We are eager to share our knowledge and experience gained during over
30

years of continuous activity within the security industry
We support and provide a range of services to other companies in manufacturing and conducting advanced research. Learn how SATEL can support you:

Our mission is to ensure safety. That is why our products are constantly put through different testing regimes in our labs, using advanced equipment. The whole process gives us the absolute confidence in our products meeting the most strict requirements of international industry standards, as well as end-user expectations. SATEL Laboratory also conducts testing for other companies and institutions.

At SATEL even the smallest plastic elements are designed and produced by us. All crucial decisions, including the final design, and properties of enclosures for our devices, are made here, at the Toolrom and Injection Moulding Department. This way, we can easily adapt to any necessary changes in the entire process. We also provide service to other companies, supporting them in their production needs.
Trust the experience.  Trust the experts.
Choose SATEL.