Intruder Alarm Systems
VERSA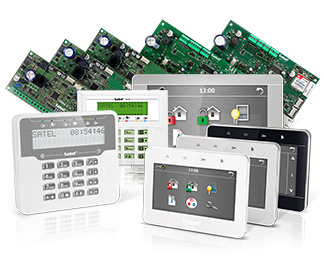 Reliable, flexible and versatile - this is how you can briefly describe the security alarm systems based on the VERSA control panels. They are specially designed to create medium-size installations in apartments and small houses, as well as in small offices and commercial buildings.
The VERSA control panels can interface with devices connected to the system in a conventional manner (i.e. using a cable), as well as with those which use remote or radio communication. Such a solution makes it possible to create exactly the system that is needed in the protected building: wired or wireless, or a hybrid one, that combines the properties of wired and wireless systems. In addition, the VERSA series control panels can work using different arming modes, which enables operation of the system devices to be customized to the needs and demands of the system users.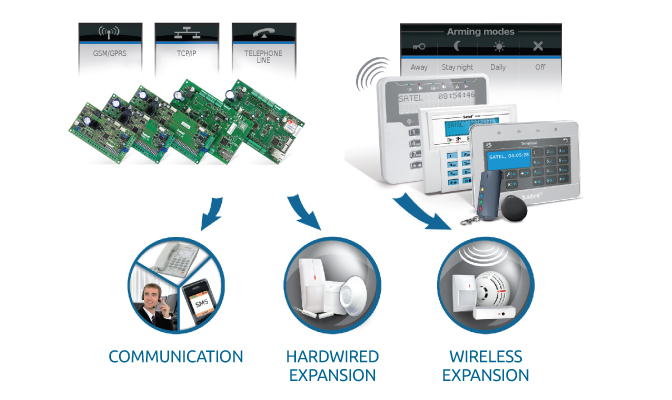 The system, whose brain is the VERSA series control panel, offers the perfect fit for the characteristics of the protected building. This is possible thanks to the flexibility of the configuration of the control panel itself, but also owing to a wide selection of items from which you can create the entire alarm system. These include, for example, various types of detectors to be used indoors or outdoors, basic motion detectors and more sophisticated devices, as well as special purpose items (e.g. gas detectors) or those provided with specific features such as PET option or additional LED lighting.
Also control in the system based on a VERSA series control panel can be customized according to the needs and preferences of the users.

It can be implemented in two ways.
Firstly, locally, using various types of keypads: from plain ones to touch-screen devices. Secondly , remotely, using the convenient and intuitive VERSA CONTROL mobile application.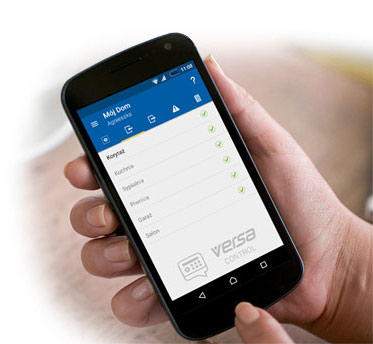 Combining the versatility of VERSA control panels with a wide selection of components which make up an alarm system enables you to create a system that provides effective detection and signaling of risks associated not only with burglary, but also with a direct threat to life, e.g. in the form of flooding or fire.
VERSA 5 / VERSA 10 / VERSA 15
Flexible adjustment to the requirements of the alarm system is a characteristic feature of the basic series of VERSA control panels. Depending on the model, 5, 10 or 15 zones, which can be expanded to 30, are provided directly on the device mainboard. The control panels have a built-in telephone communicator and can also work with GSM/GPRS or TCP/IP module. Therefore, you can make use of their potential and functionality, regardless of whether certain communication paths are available or not. This provides flexibility in configuring the control panel and is also very practical in terms of installation. If necessary, you can quickly replace one module by another, without having to replace the entire control panel.
functionality tailored to individual needs
flexible system expansion through expanders
possibility to quickly replace individual modules rather than the entire control panel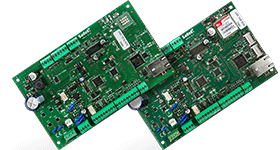 VERSA IP / VERSA Plus
The overriding feature of the VERSA Plus and VERSA IP control panels is multi-path communication capability. They offer functionality previously available only by using multiple modules: the ETHM, PSTN and voice modules, and in VERSA Plus - also the GSM module. This solution ensures stable operation of the system even if any of the information transfer methods is at a given moment unavailable. Importantly, these so versatile devices are also extremely compact - the size of their mainboards is comparable with that of the other control panels. And because there is just a single device to be installed instead of several ones, installation of the system is faster and more efficient.
compact device with rich functionality
reliable multi-path communication
fast and easy installation
Compare the VERSA family products
VERSA Plus
VERSA IP
VERSA 15
VERSA 10
VERSA 5

Number of supported detectors (number of zones) / max. number of supported detectors(max. number od zones)

4 / 30
4 / 30
15 / 30
10 / 30
5 / 30

Number of obejcts / partitions

1 / 2
1 / 2
1 / 2
1 / 2
1 / 2
Support for keypad
LED / LCD / touchscreen
• / • / •
• / • / •
• / • / •
• / • / •
• / • / •

Operation with proximity tags / cards

• / •
• / •
• / •
• / •
• / •

Keyfobs for users

•
•
•
•
•

Users and administrators + service

30 + 1
30 + 1
30 + 1
30 + 1
30 + 1

Number of on-board inputs for operating devices / max. number of on-board inputs for operating devices

2 + 2 + 1 / 12
2 + 2 + 1 / 12
2 + 2 / 12
2 + 2 / 12
2 + 2 / 12
Built-in communicator:
PSTN / GSM / ETHERNET
• / • / •
• / - / •
• / - / -
• / - / -
• / - / -

Remote touch-tone phone control

•
•

option

option

option

Remote SMS control

•
-
-
-
-

Operation via mobile applications

•
•
•
•
•

Support for TCP/IP communication

•
•
•
•
•

Support for GSM/GPRS communication

•
-

option

option

option

Support for wireless devices

option

option

option

option

option