Meet the successor of SPP-100!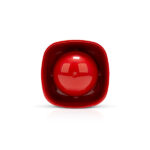 SPP-110
Conventional fire alarm sounder
CHECK
The audible fire signalling device issues a warning to people present within the protected area on the detection of a hazard.
selection of 32 signal sounds
possibility of emitting two different sounds
volume control
standard base
The actual appearance of the products may differ from the presented images. Product descriptions are provided in the web service for information purposes only.