Features
Alarm system
VERSA Plus
Ideally suited, offering flexible configuration and versatility while maintaining the highest level of security that is available from anywhere in the world – such is the alarm system based on the VERSA Plus control panel. It is a dedicated solution for people who care as much for quality, functionality, simple and intuitive use, as for fast and clean installation.

security, functionality, comfort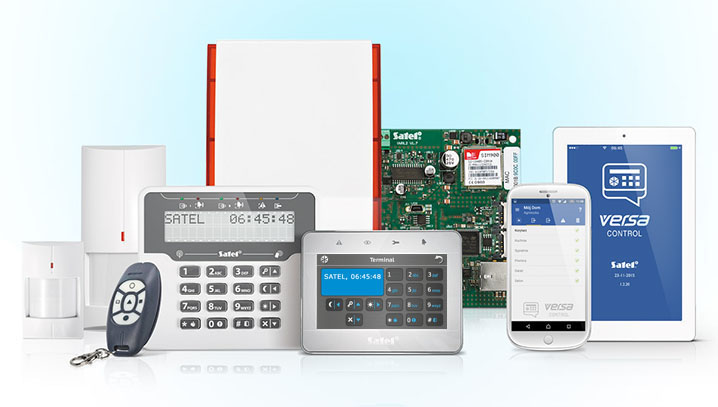 safety and ease of use • flexibility and versatility
remote control • reliable multipath communication


Cost-effective solution and easy installation
control panel with already built-in Ethernet, GSM/GPRS, voice and acoustic alarm verification modules

designed for easy installation

Flexibility of the system
capability to create a wireless, wired or hybrid system

Reliable multipath communication
Ethernet (mobile application, PUSH notifications, e-mail messages, reporting to monitoring station)
GSM/GPRS (SMS, CLIP, reporting to monitoring station)
PSTN (voice messaging, reporting to monitoring station)

Convenient and economical messaging
e-mail messages, PUSH notifications

Fully wireless operation
dedicated keypad with proximity card / key tag reader
capability to operate the system via a multi-function keyfob

Remote access and system control

dedicated application for Android, iOS smartphones and tablets

Simple and intuitive operation

touchscreen keypad with graphical interface

proximity cards and key tags

multifunction remote control keyfobs

Customized local control

capability to select from 8 keypads according to individual user preferences

Effective detection
and signaling of threats

digital motion detectors

detectors allowing for addition of home
automation components to the system

outdoor and indoor sirens
The VERSA Plus control panel
is the only such compact solution
Only this control panel combines features that until now were only available through the use of several separate devices. The control system based on the VERSA Plus provides multiple paths of communication, remote control capability, as well as flexibility of installation. It is a comfortable, comprehensive and cost-effective solution for everyone!
Installation of the system, the heart of which is the VERSA Plus, is quick and easy. What is more, if you decide on the fully wireless option, you will avoid the construction work, which otherwise would be necessary if cabling had to be laid. Thus you will save time as well as money for your household budget.

For the installer, the up-to-date and convenient solutions for configuration and programming of the alarm system based on the VERSA Plus control panel signify fast and trouble-free operation in a comfortable environment.
Quickly and easily

The DLOADX program enables convenient remote configuration of the entire alarm system by using a variety of communication channels: PSTN, GPRS and Ethernet. Thus, if a rapid change of the system settings is necessary, the installer will do it easily without having to visit the premises. Additionally, the solutions used in the VERSA Plus enable local configuration of the system. The installer can perform it quickly and without problems by connecting the computer with DLOADX program installed directly to the control panel via its onboard USB port.





SYSTEM installation
and configuration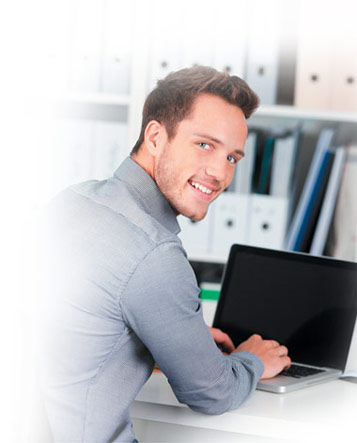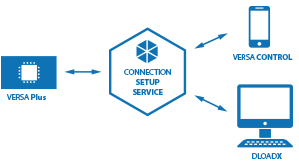 Simply and safely

Owing to the service provided by SATEL, an encrypted and therefore completely secure connection is offered. It makes it easier for the installer to connect remotely to the VERSA Plus control panel through the DLOADX program without the necessity to have the external IP address and perform network configuration operations. On the other hand, it allows the user to take advantage of the convenient VERSA CONTROL mobile application.
The possibility to carry out quickly and easily both the installation and configuration of the system based on the VERSA Plus control panel allows you to create such system in just one day. Thus the users can receive a system ensuring complete security and ease of use in a very short time.
Simple and intuitive control
The system based on the VERSA Plus control panel provides comprehensive protection,
ideally suited to the needs of users. The dedicated solutions enable easy and intuitive home alarm management.
Mobile application
VERSA CONTROL
The easiest and most convenient way to operate the VERSA Plus alarm system is by using the functionality offered by the VERSA CONTROL mobile application.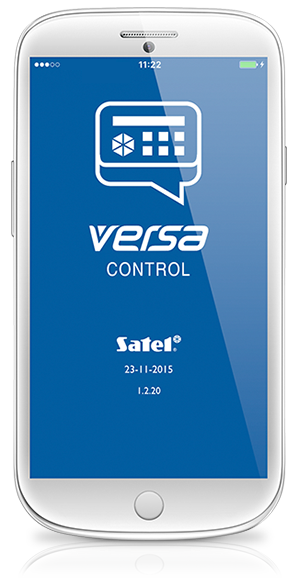 system state
monitoring:
- remote arming / disarming
- clearing alarms

viewing zone status, bypassing /
unbypassing zones
viewing output
status, activating /
deactivating
outputs
scrolling through the troubles,
if any, with memory erase capability
scrolling through the system events with event filtering capability
It is advisable to configure the VERSA CONTROL application when installing the alarm system, the more so because the operation is extremely simple. Just enter the two parameters: MAC and ID numbers (they are available to read both in the keypad, also from the user level, as well as in the DLOADX program). What is more, when configuring the application, you can set the filters which will allow you to define in a simple way what kind of the system events you want to be informed about.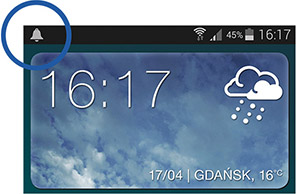 PUSH notifications

The VERSA CONTROL application also offers notification by using PUSH messages. They allow both the user and the installer to receive information about each event in the system. Because this service runs in the background, the recipient is always notified in real time.
An advanced control panel also requires innovative solutions regarding the local control. This task is performed perfectly well by the dedicated keypads, a wide range of which allows you to select devices ideally suited both to the expectations and preferences of the users and to the functionality of the given system.
VERSA-KWRL2
VERSA-LCDM-WRL
wireless keypad
fully wireless operation of the system

full functionality known from wired LCD keypads

system operation by using proximity cards and key tags
INT-TSG and INT-TSH
touchscreen keypad

touchscreen size 4.3" and 7"
intuitive graphical interface
perfect match for any interior owing to two color versions: dark and light
Other keypads
The offer of dedicated keypads for operating the VERSA Plus system includes three more models. They differ not only in their outward appearance and color of the backlight, but also in how information about the system state is read.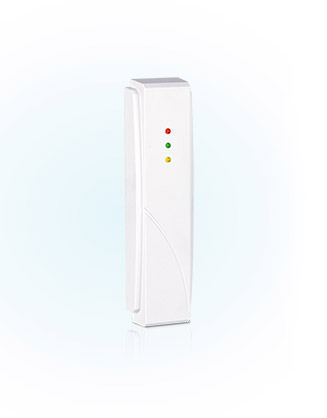 INT-CR partition
control module

alarm system control without the need
to remember passwords

user-friendly alarm system operation using proximity cards and key tags

3 programmable partition control modes

indication of system status and communication with the user
by means of color LEDs and sound

there can be a total of 6 partition control modules in the entire system
APT-200/APT-100
MPT-350/MPT-300
keyfob

convenient remote operation of the alarm system, e.g. for arming and disarming
control of such devices as garage doors,
roller shutters or roller shades

calling for help

confirmation of the execution of commands
and information about the system status
using LEDs (APT-200, APT-100)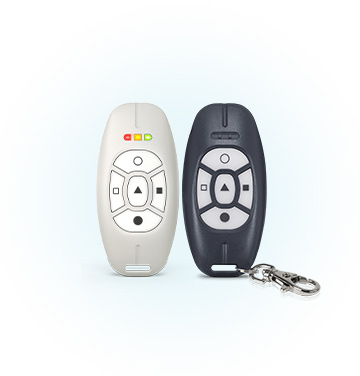 Flexibility of applications
Owing to the flexibility of configuration, the construction, range and functionality of the alarm system, the heart of which is the VERSA Plus control panel, can be perfectly matched to the characteristics of the protected premises. This is why the system ensures excellent protection for both small and medium-sized buildings, regardless of whether they are still at the shell stage, or their construction has been completed. The VERSA Plus performs remarkably well as protection of buildings, both historic and modern, commercial and residential, both of simple construction as well as complex one, requiring specialized solutions. The VERSA Plus significantly reduces the time required for installation and configuration of the system, providing tangible savings to the users and installers.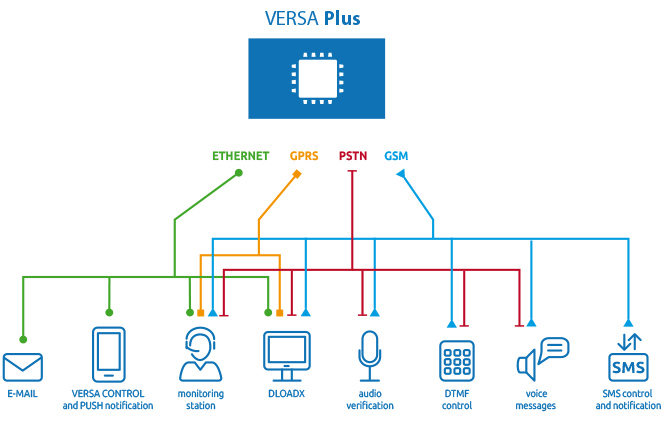 Multipath communication

The VERSA Plus mainboard integrates the ETHM, GSM, INT-VG and INT-AV modules, as well as the PSTN dialer. It thus provides communication through the Ethernet, GSM/GPRS and PSTN channels, allowing the e-mail, SMS, PUSH and audio notification. The control panel also offers effective monitoring, as well as convenient programming - both locally through USB port or remotely using the DLOADX program.

The VERSA Plus allows you to control the system in many ways, both locally and remotely. The devices used for local control include wired and wireless keypads, as well as remote control keyfobs and INT-CR modules that allow you to manage the system without having to enter the password on the keypad.

The use of the mainboard built-in GSM and Ethernet modules enables remote control of the system by using SMS messages, as well as by means of the VERSA CONTROL intuitive application. The built-in INT-VG module allows for interaction with the control panel via a voice menu controlled by DTMF tones (GSM and PSTN). The module menu can be personalized according to user requirements.
Characteristics
The VERSA Plus control panel is designed for protection of small and medium-sized premises. It allows you to create a wired or wireless system, as well as a hybrid one, which combines both these kinds of system. It is compatible with ABAX 2 (ACU-220, ACU-280) and ABAX (ACU-120, ACU-270) wireless systems controllers.
The VERSA Plus is the only solution that combines features that were previously only available by using several separate devices. ETHM, GSM, INT-VG and INT-AV modules as well PSTN dialer are integrated on its mainboard. As a result, the VERSA Plus control panel enables communication via three channels (Ethernet, PSTN, GSM/GPRS), thus ensuring effective transfer of information.
EN50131 Grade 2 compliance
4 programmable wired zones:

support for NO and NC type detectors, and roller shutter and vibration detectors
support for EOL and 2EOL configuration

additional tamper input, NC type
5 programmable wired outputs:

2 high-current outputs
2 high-current outputs, OC type
1 relay output

3 power outputs
output for connecting dedicated enclosure-mounted piezoelectric transducer (acoustic signaling),
maximum number of programmable zones: 30
maximum number of programmable outputs: 12
system subdivision into 2 partitions:

each zone can be assigned to two partitions

system control by means of:
integrated PSTN module to enable:

reporting (SIA, ContactID, etc.)
voice messaging (8 numbers, 16 messages)
remote programming (300 bps modem) with DLOADX program

integrated GSM/GPRS module to enable:

voice/SMS messaging
SMS/GPRS reporting
support for 2 SIM cards
programming with DLOADX program

built-in ETHM module to enable:

e-mail messaging
control by means of VERSA CONTROL application offering PUSH notifications
reporting to monitoring station
programming with DLOADX program

built-in voice module:

nearly 13 minutes for messages to be used in voice menu
over 4 minutes for 16 telephone notification messages (with message duration up to 16 seconds)

built-in USB-HID socket
memory of 2047 events
capability to handle 30 users and assign to each of them:

code
proximity card
keyfob

4 timers to enable automatic:

arming/disarming partitions
control of outputs (turning light ON/OFF, watering garden, etc.)

plug-in terminal blocks
option of not reporting possible problems with connecting to the SATEL server as a failure
Documentation
Software
Certificates
EU declaration of conformity
updated: 2018-07-18
116 KB
EN-50131 GRADE 2 - certificate
updated: 2020-03-26
177 KB
Technical Data
Messaging telephone numbers
8
Low current programmable outputs rating
50 / 12 VDC mA
Enclosure dimensions
266 x 286 x 100 mm
Board dimensions
173 x 105 mm
Operating temperature range
-10…+55 °C
Supply voltage (±15%)
18 V AC, 50-60 Hz
Current consumption from battery - maximum
340 mA
Current consumption from battery - standby
180 mA
Battery failure voltage threshold (±10%)
11 V
Battery cut-off voltage (±10%)
10,5 V
Environmental class according to EN50130-5
II
Current consumption from the 230V network in standby
120 mA
Maximum current consumption from the 230V network
200 mA
Power supply output voltage
12 ±15% V DC
Programmable wired inputs
4
Maximum number of programmable inputs
30
Programmable wired outputs
5
Maximum number of programmable outputs
12
Security grade according to EN 50131
Grade 2
Current-carrying capacity, AUX output
500 mA / 12 V DC
Recommended transformer
40 VA
Mass (incl. enclosure and accessories)
1250 g
Notification e-mail addresses
8
Current-carrying capacity of +VR output
200 mA / 12 V DC
Current-carrying capacity of KPD output
500 mA / 12 V DC
Current-carrying capacity of programmable relay output
1000 / 24 VDC mA
Current-carrying capacity of programmable high-current outputs
1100 / 12 VDC mA
Output voltage range
10,5 V…14 V DC
Battery charging current
800 mA
Information materials
Technical Data
894 KB
The actual appearance of the products may differ from the presented images. Product descriptions are provided in the web service for information purposes only.