BACKUP POWER SUPPLIES
Backup power supply units enable power supply of devices used in various types of systems, including alarm, CCTV, intercom, access control or building automation. In the event of primary power failure, these power supplies can use one or more batteries as a backup power source. This ensures uninterrupted operation of the systems, even for many hours, when the main power source is not available.
---


Output voltage
The power supplies available in SATEL's portfolio differ in output voltage: 12 V DC or 24 V DC. Therefore, you can choose a device with voltage suitable for the system to be powered.
Most devices in the intrusion and hold-up alarm systems use 12 V DC voltage.

Output current
and battery charging current
The SATEL backup power supplies are characterized by an output current ranging from 1.5 A up to 14 A. The battery charging current, depending on the model, can be from 0.5 A to 3 A.
When choosing a power supply, remember that the output current must not be less than the total current consumption of the devices to be powered by it.
In some cases, when working with a battery, the maximum current output of the power supply must be reduced by the charging current.

Efficiency
Efficiency of the power supply is the ratio of its output power to its input power. The most advanced SATEL power supply devices, due to the optimization of their construction and the use of high performance components, are characterized by energy efficiency exceeding 90%.
High efficiency translates into low heat emission and eliminates the need for additional cooling.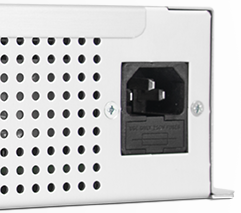 Construction
All SATEL power supply devices are switch-mode power supplies. Most of them can draw power directly from the mains during normal operation. However, the available economical power supplies (APS-15 BO, APS-30) require connection of a mains transformer.
Interference immunity
Each SATEL backup power supply comes with a number of filters designed to make it immune to interference that might adversely affect operation of critical components of the given system.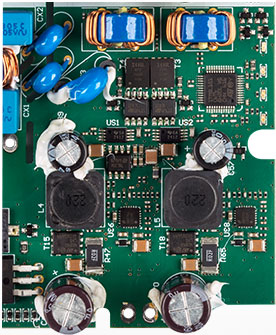 Safety
Built-in safety devices - including over-current and short-circuit protection - are used to minimize the risk of damage to the power supply unit in the event of incorrect connection or failure of the system during its operation.
Compatibility with SATEL devices
The APS-1412, APS-612 and APS-412 power supplies offer the option of integration with selected expansion modules, communication modules or SATEL access control panel provided with an APS connector. These devices can receive information from the power supply about its state and the connected battery.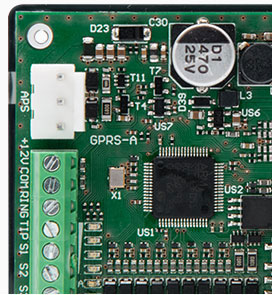 Power supply for Grade 3 systems
The high security intrusion and hold-up alarm systems, i.e. Grade 3 according to EN 50131, require the use of special power supply units. An example of such a power supply is APS-612 ‒ a model having a certificate of compliance with the requirements of EN 50131 for Grade 3.
SATEL's product portfolio includes a number of backup power supplies.